Print this article
Pandemic Didn't Hit Overall Global Wealth; Millionaire Headcount Continues Rising
Tom Burroughes
22 June 2021
Total global wealth grew by 7.4 per cent in 2020 from a year before and wealth per adult rose by 6 per cent to reach $79.952. Aggregate global wealth rose by $28.7 trillion to reach $418.3 trillion at the end of the year, according to an annual survey of trends by Credit Suisse.

The report estimates that $17.5 trillion was wiped from total global household wealth between January and March 2020 when the COVID-19 pandemic struck, equivalent to a fall of 4.4 per cent. This was largely reversed by the end of June 2020, however. And the outlook for HNW population growth is positive, the study said. The report predicts that the world's population of millionaires will rise between 2020 and 2025 by 49.5 per cent to 84,014. In the US, there are slated to be 28.055 million millionaires in 2025, a 27.8 per cent rise from 2020.

Wealth differences between adults widened and the total number of millionaires expanded by 5.2 million to reach 56.1 million. As a result, an adult now needs more than $1 million to belong to the global top 1 per cent. 2020 marked the year when for the first time, more than 1 per cent of all global adults are in nominal terms dollar millionaires. The ultra-high net worth group grew even faster, adding 24 per cent more members, the highest rate of increase since 2003. Since 2000, people with wealth in the range of $10,000 to $100,000, have seen the biggest rise in numbers, more than trebling in size from 507 million in 2000 to 1.7 billion in mid-2020. This reflects the growing prosperity of emerging economies, especially China, and the expansion of the middle class in the developing world.

The US has by far the largest world share of millionaires and is far ahead of China and a spread of western European countries. The US has 22.0 million millionaires, or 39.1 per cent of the world total. China comes in second place with 9.4 per cent. The percentage in third-placed Japan has eroded over the years and its position is now threatened by Germany . Next comes the UK , France , Australia , Canada and Italy . Spain, Korea, the Netherlands and Switzerland each host around 2 per cent of global millionaires, with India and Taiwan adding another 1 per cent each, along with Sweden, which has met the 1 per cent threshold for the first time, replacing Hong Kong.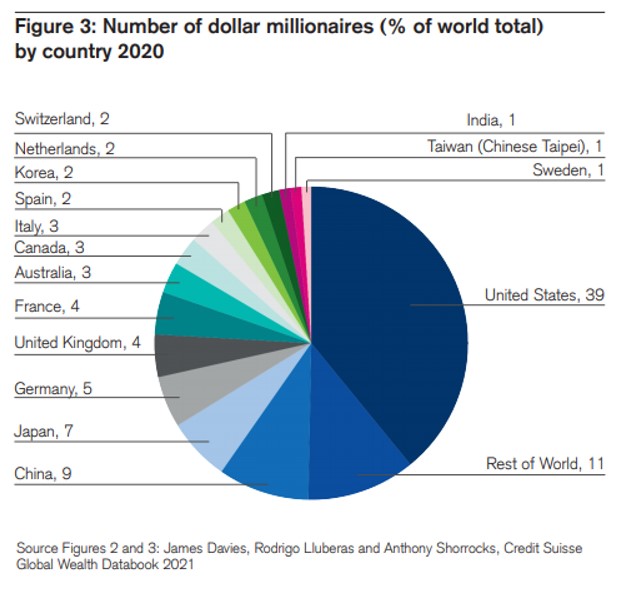 In 2020 a total of 5,211 millionaires joined the ranks of the 10 countries with the largest proportion of this cohort, creating a total of 56,084. The US added 1,730 millionaires, Germany added 633 and Australia 392. On the flipside, Brazil lost 108 millionaires, India lost 66 and Russia lost 44.

---
HNW individuals and ultras
The rise in the number of millionaires in 2020 was accompanied by a sizable increase in the number of adults in the highest echelons of the wealth distribution, the report said. The vast majority of the 56.1 million millionaires in 2020 have wealth amounting to between $1 million and $5 million: 49.1 million or 88 per cent of the HNW group. Another 4.5 million adults are worth between $5 million and $10 million, and 2.5 million have wealth above $10 million. Of the latter, 2.3 million have assets in the $10 to $50 million range, leaving 215,030 ultra-high net worth individuals with net worth above $50 million at the end of 2020. This is 41,410 more than the 173,620 recorded a year earlier, a rise of 23.9 per cent.

"That would be a very high rise in any year, but it is particularly striking in a year experiencing social and economic turmoil. The nature of the policy response to the pandemic has of course been a major influence here," Credit Suisse said.

At the end of 2020 there were 68,010 adults with wealth above $100 million, of which 5,332 are worth more than $500 million. The regional breakdown of the UHNW group as a whole is dominated by North America with 114,380 members , while Europe has 38,110 , and 28,130 live in Asia-Pacific countries, excluding China and India. Among individual countries, the United States leads by a huge margin with 110,850 members, equivalent to 55 per cent of the world total.

China is a clear second with 28,130 UHNW individuals, followed by Germany , the UK , Japan and India .The remaining countries in the top ten nations are France , Canada , Italy and Switzerland .

In 2020, the UHNW group expanded by 41,420 adults, a rise of 24 per cent, which exceeds the rate in any year this century except 2003. Most regions contributed to this rise, with Africa and Latin America being the only exceptions. North America, up 21,640 , added the most members. China added fewer members, an extra 9,830. But this represents a 54 per cent increase on the number in 2019. The percentage rises were also substantial in Europe and Asia-Pacific .

Regional overview
The regional breakdown shows that total wealth rose by $12.4 trillion in North America and by $9.2 trillion in Europe. These two regions accounted for the bulk of the wealth gains in 2020, with China adding another $4.2 trillion and the Asia-Pacific region another $4.7 trillion.

On the downside, India and Latin America were hit in 2020. Total wealth fell in India by $594 billion, or 4.4 per cent in percentage terms. This loss was amplified by exchange rate depreciation: at fixed exchange rates, the loss would have been 2.1 per cent. Latin America appears to have been the worst performing region, with total wealth dropping by 11.4 per cent or $1.2 trillion.

Total debts increased by 7.5 per cent and would likely have increased much more if households had not been obliged to save more by the constraints on spending. Total debt rose markedly in China and Europe, but declined in Africa and in Latin America, even after allowance is made for exchange rate depreciation.