We have written several times about the close involvement of family offices, those exemplars of "patient capital," in areas such as healthcare technology. The story of the German couple who developed the vaccine for BionTech/Pfizer, and the family office connected to that success, is just one story among many. This news service has worked exclusively with Highworth Research, a database of single family offices, to track developments. And there are more stories to come.

The article below, which examines why family offices are keen on such areas, and delves into the benefits and risks, is by Thomas Balkizas, a healthcare tech global investment strategist , and EMEA principal partner for healthcare and life sciences at AWS. The editors of this news service are pleased to share this content and invite readers to jump into the conversation. The usual editorial disclaimers apply to views of outside contributors. Email tom.burroughes@wealthbriefing.com and jackie.bennion@clearviewpublishing.com
The growing opportunity
Now that Baby Boomers are living longer, and the COVID pandemic has put healthcare center stage, healthcare and life sciences are more important than ever.

The Big Tech corporations have recently made major investments in healthcare technology and venture capitalists and private equity groups have given their clear backing to the sector.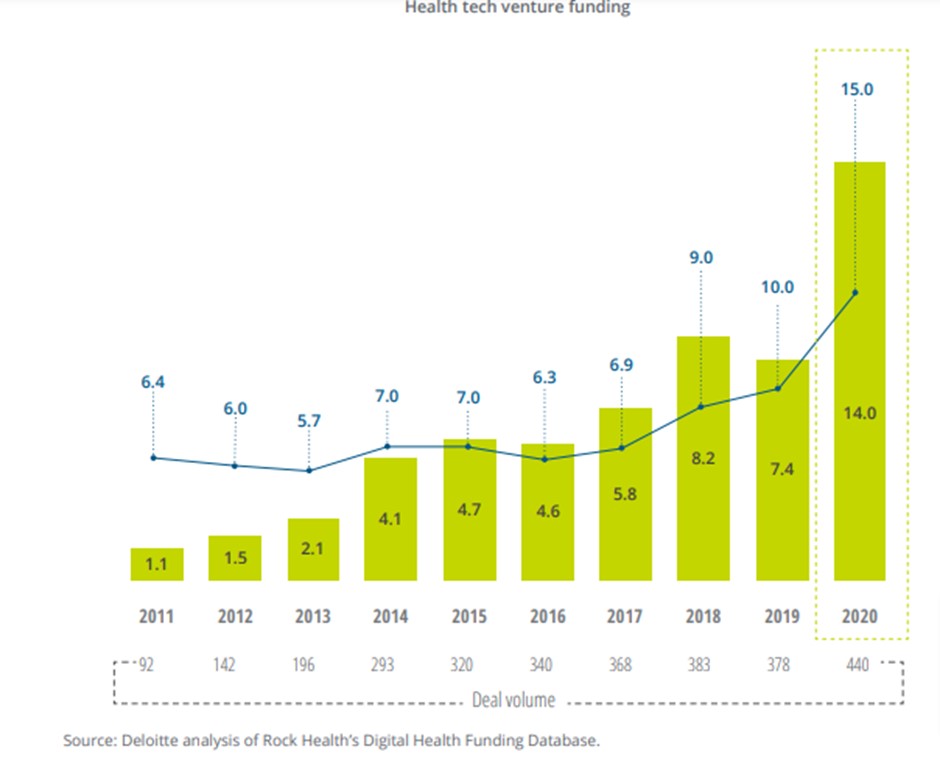 Healthtech - continually innovative, always in demand and a safe haven
The pandemic has devastated many industries but healthcare and health tech have remained a safe and growing investment sector during turbulent times. The crisis has accelerated the adoption of digital health devices, systems, diagnostics, remote communications and monitoring solutions for patient treatment and care while propelling the use of AI and machine learning to develop drugs at an unprecedented speed.
These changes in tech use and new clinical practices will continue unabated after the pandemic, improving patient outcomes, increasing efficiencies and delivering better care for many people.
Start-ups with a strong value proposition
An essential part of searching for attractive groups to invest in should be the ability to pinpoint start-ups with an obvious strong value proposition. They must solve a big, scalable, healthcare need that is causing a lot of "pain" to patients and healthcare professionals.

Start-ups that fail may often have a good solution to a recognized problem but, unfortunately, they may not be a viable investment due to their limited importance, size and scaling possibilities. If the addressable problem is urgent, there is some clear evidence that the tech will be adopted quickly, with a clinical champion attached, at which point, you should investigate it further while taking expert advice.
Why are health tech and life sciences a good fit for family office investors?
Family offices should consider health tech investments if they value some or all of the following factors:
-- A high potential ROI from innovative products and services;
-- The continuous growing demand for tech to treat disease and support wellness;
-- The growing need to support aging populations and improve their quality of life;
--The opportunity to invest in socially impactful assets that build a legacy in philanthropy; and
-- The chance to invest in a safe sector with constant "crisis-proof" demand.
Most of the healthcare that was delivered during the pandemic had elements of digital health: access, information quality checking, post-event communication, track and trace, and booking vaccination appointments.

These additional factors should also be considered when evaluating start-ups:
-- Personalization should be part of the product or service solution: one-size fits all rarely works in healthcare;
-- How effective is a product or service at monitoring and does it produce actionable data for the healthcare professional? and
-- Tech solutions may also need to gain social or group support. This is critical in lifestyle diseases such as diabetes and heart failure.
Key categories, start-ups to watch
The three top health tech fields are precision medicine, wearables and genomics with an estimated global market value range of between $400 to $600 Billion.

SOURCE McKinsey 2020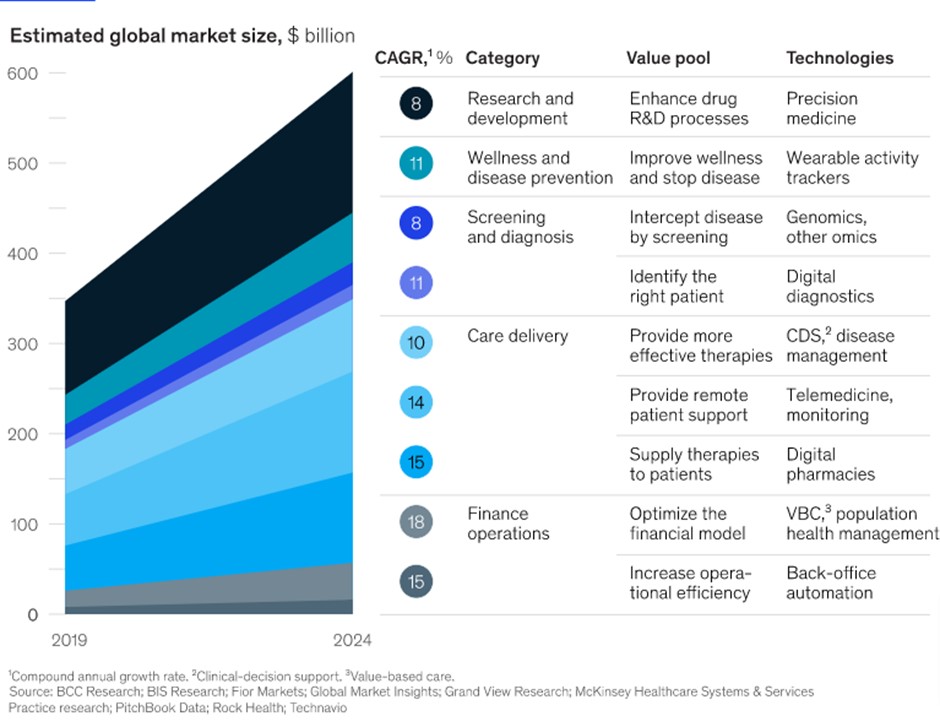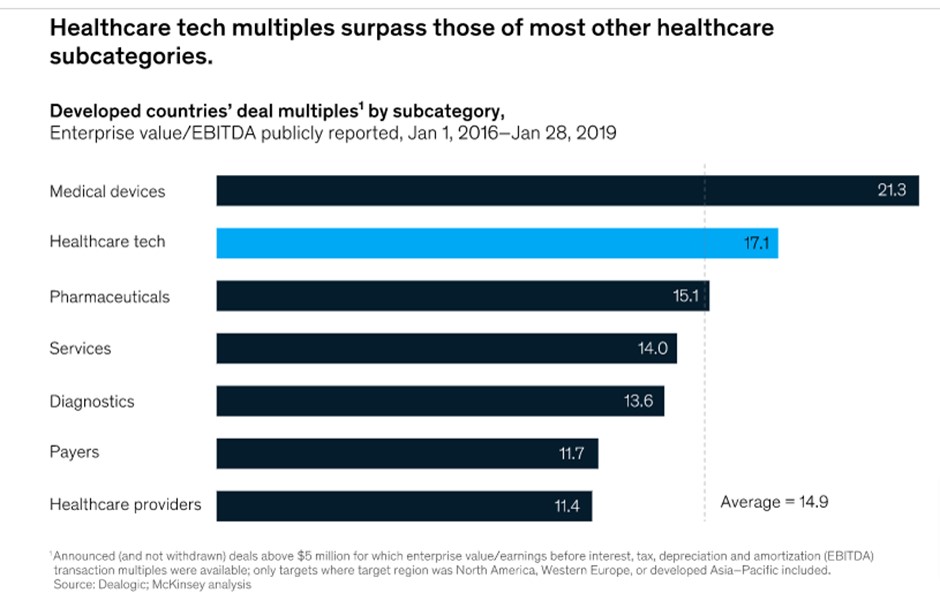 Some of the most exciting areas to consider currently are the Internet of Medical Things, longevity and wellness treatments, and digital health apps.
Internet of Medical Things
These connected devices companies that improve the efficiency of patient diagnosis, monitoring and treatment while reducing costs, can allow remote treatment options. They can connect medical devices securely to services such as the AWS cloud. The Internet of Medical Things market should reach $142.45 billion by 2026 and is associated with treatment cost reductions and better outcomes.



Source: Deloitte

---
Promising European-based IOMT innovators in 2020
The tech includes diagnostics devices, wearables, rehabilitation aids, treatment implants and patches:

-- BeFC, France: – Sustainable paper-based energy source;
-- CRIAM, Portugal: – 5G portable blood point of care diagnostics;
-- Horizen, Poland: Higo telemedical system;
-- inContAlert, Germany: – Wearable system for non-invasive measurement of the urinary bladder filling level;
-- Innovosens, Sweden: SMASH – Sweat Metabolite Analysis for Sports and Health;
-- Mindpax, Germany: – Wrist-worn monitoring sensor for chronic diseases;
-- PKvitality, France: K'Watch – Continuous glucose monitoring smartwatch; and
-- RespMedical LLC, Poland: BreatherOne – Pulmonary rehabilitation system.
Longevity: living longer, more meaningful lives
There are two types of lucrative investments in the field of extending the lifespan of people to help them live better, fuller lives.
1) Anti-aging and longevity clinics such as the Merano Palace clinic in Italy and the recently launched London Anti-ageing Clinic - where people receive services to delay the effects of ageing and enhance their immune system.
https://www.palace.it/en/
2) Health tech companies that support the elevation of the human condition by surfacing data and offering continuous monitoring on a variety of topics including genome, microbiome, metabolome and vital signs.
A selection of some interesting start-ups in this area:

-- Insilico Medicine - specialize in using artificial intelligence for drug discovery and aging research;
-- Muhdo medical research - DNA and epigenetic profiling;
-- Nightingale Health - offers preventative care to all based on their accessible specialist blood analysis; and
-- Mindstrong Health - provides brain healthcare that improves clinical outcomes and reduces hospital visits through improved data measurement and virtual care.
Digital health apps - mobile health technology
This area covers such things as mobile heart and BP monitors, cognitive development apps, digital watches and wearables with fitness programs. The UK NHS has been promoting the use of mobile care and connectivity devices that it believes could help save over 500,000 lives annually thanks to early disease detection and improved health. The NHS has sought partners to help develop its own digital program.

The pandemic has highlighted the need for telemedicine and remote monitoring of patients, especially with the aging population in Europe and the US.

These devices and apps reduce the need for patient visits to clinics and care worker home visits to the elderly. They are also growing in popularity amongst the younger, fitness-conscious generations who use them for training.
Interesting digital healthcare app start-ups:

--mySugr Global - App allows tracking of necessary data and trending charts ;
-- Mobile MIM allows sharing of images from radiation oncology, radiology, nuclear medicine, neuroimaging and cardiac imaging;
-- AliveCor creates electrocardiograms when attached to your smartphone and can identify irregular heart rhythms;
-- Diabetes Manager by WellDoc collects and transmits blood sugar level information in real-time;
-- Welch Allyn iExaminer Adapter and Ophthalmoscope allow detection of conditions like retinal detachment or glaucoma;
-- Gauss Pixel App allows doctors and nurses to accurately measure the amount of blood loss in surgical procedures;
-- AirStrip ONE delivers patient data from medical devices, electronic medical records and patient monitors to clinicians; and
-- ResolutionMD gives access to radiology diagnostic images and reports from mobile devices.

SOURCES:
https://www.carecloud.com/continuum/7-best-fda-approved-health-apps/
https://www.pgs-soft.com/blog/best-mhealth-app-monetization-strategies-why-its-a-great-time-to-invest/
https://www.innovationworldcup.com/top12-internet-of-medical-things-techpreneurs-2020/
https://www.mckinsey.com/industries/pharmaceuticals-and-medical-products/our-insights/healthtech-in-the-fast-lane-what-is-fueling-investor-excitement
http://www.healthtechinsight.com/2017/04/health-tech-value-proposition-vitamins-aspirin-or-antibiotics/
https://www2.deloitte.com/us/en/insights/industry/health-care/health-tech-private-equity-venture-capital.html
https://www.businessinsider.com/how-microsoft-google-apple-amazon-are-investing-in-healhcare-2021-4
Top 150 digital health:
https://drive.google.com/file/d/1Qy1x4PK0hBTN8pnfK_g8_T9i1g-_VPGP/view?usp=drivesdk
http://www.healthtechinsight.com/2017/04/health-tech-value-proposition-vitamins-aspirin-or-antibiotics/
https://www.mckinsey.com/industries/pharmaceuticals-and-medical-products/our-insights/healthtech-in-the-fast-lane-what-is-fueling-investor-excitement
https://www.himss.org/resources/healthcare-investing-trends-report
https://www.mckinsey.com/industries/private-equity-and-principal-investors/our-insights/private-equity-opportunities-in-healthcare-tech