Market Research
US Still Dominates Family Business Global Picture
An EY/St Gallen study of the 500 largest family-owned business globally shows that US enterprises are dominating. But the success of family run firms doesn't always run linear to economic growth; it is more about resilience and longevity, the authors maintain.
Findings of the 2021 Family Business Index published this week reveal that the 500 largest family-owned businesses globally generate $7.3 trillion in revenues, employ 24 million people across 45 jurisdictions and have proven highly resilient to the economic and social effects of the pandemic.
Family-owned business in mainland China, Hong Kong, Taiwan, Japan and South Korea accounted for the lion's share of Asia-Pacific revenue generating $835 billion. But this was dwarfed by the $2.5 trillion generated by family businesses in the Americas, with US businesses collectively contributing 81 per cent of revenue for the region.
Seven out of the 10 biggest family businesses globally are from the US, including Walmart, Berkshire Hathaway and Ford.
The index, compiled jointly by EY and researchers at the University of St Gallen in Switzerland, offers insights into how these large enterprises stack up against their corporate non-family owned counterparts; and is a useful resource for wealth managers as caretakers of much of this private family wealth.
Germany ranked second after the US, home to 16 per cent of firms on the index, including two of the largest, Schwarz Group and BMW. This reflects the strength of the German economy and the fact that 90 per cent of German businesses are family owned, according to the Foundation for Family Businesses.
European-based companies were not surprisingly leading on ESG adoption. Of the 50 per cent of family-owned businesses globally that reported following ESG metrics in their business practices, roughly half were in EMEA countries, with less than a third from the Americas and a fifth from Asia-Pacific.
"Privately owned family enterprises using ESG metrics to manage but not report on their businesses are missing an opportunity to attract talent, win customers and grow future revenues," the report said.
Many of the businesses operate in traditional consumer or manufacturing sectors, with the majority founded well before online technology, telecommunications and finanical services became dominant. Japan's Takenaka Corporation, founded four centuries ago, is the oldest family business in the Index.
Putting meat on the phrase "built to last," a third of the family businesses on the index are over 100 years old, generating $2.1 trillion in revenues. This chart shows how they divide.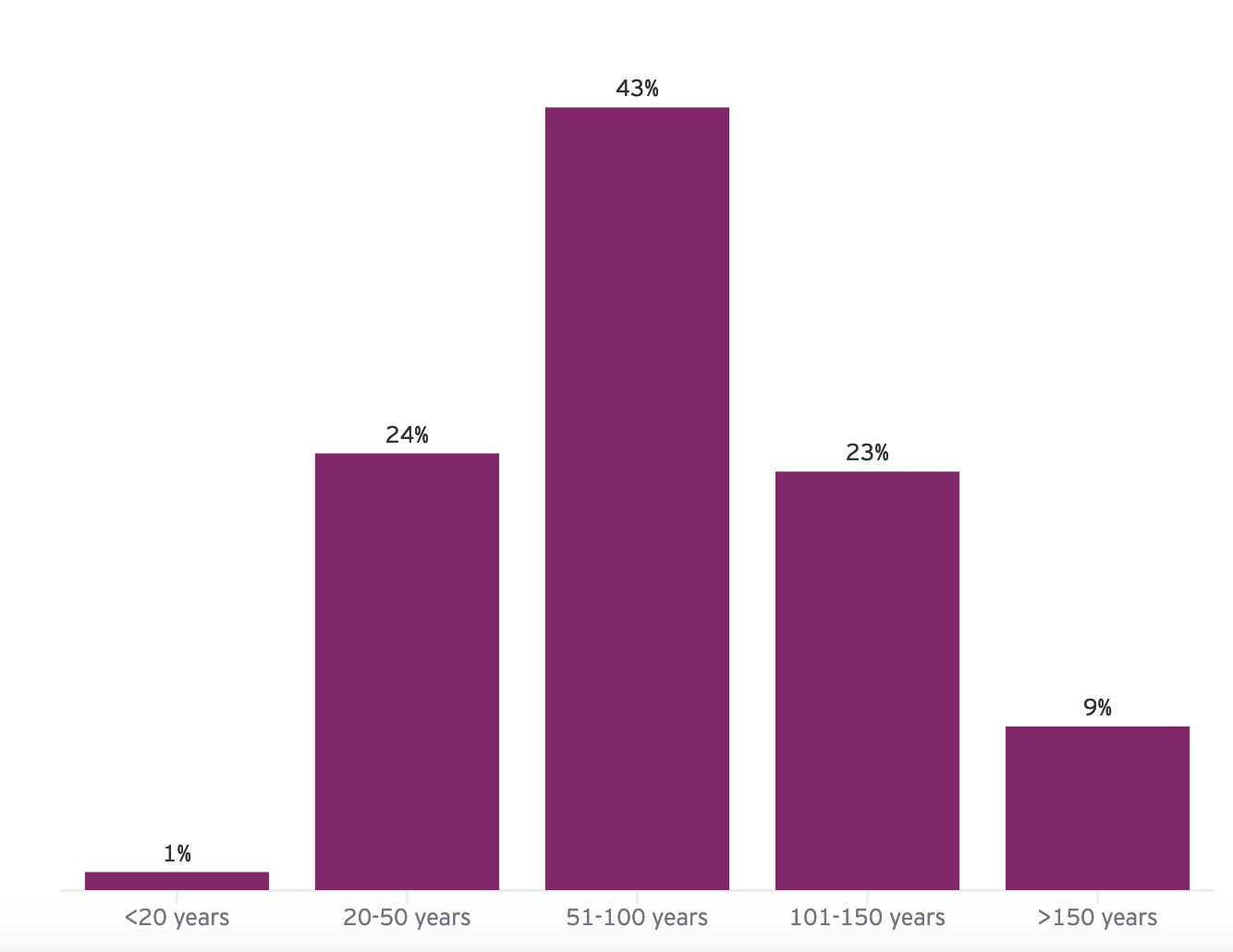 The report suggests that while the Asian economies are growing fast, family enterprises in the index should be viewed separately from that growth.
"The change of share of companies represented in the index between Asia, Europe and the Americas is not linear to the economy. Their growth is slow and steady, it's about wealth accumulation," co-author Helena Robertsson from EY, said. "For example, from 2017 to 2021, there has been about a 12 per cent increase in family enterprises represented on the Index from the APAC region – a modest increase, but nothing out of the ordinary. While the growth to date has been consistent with what we've seen over the years, it will be an interesting region to watch in the future," she said.
This chart shows family business breakdown by industry.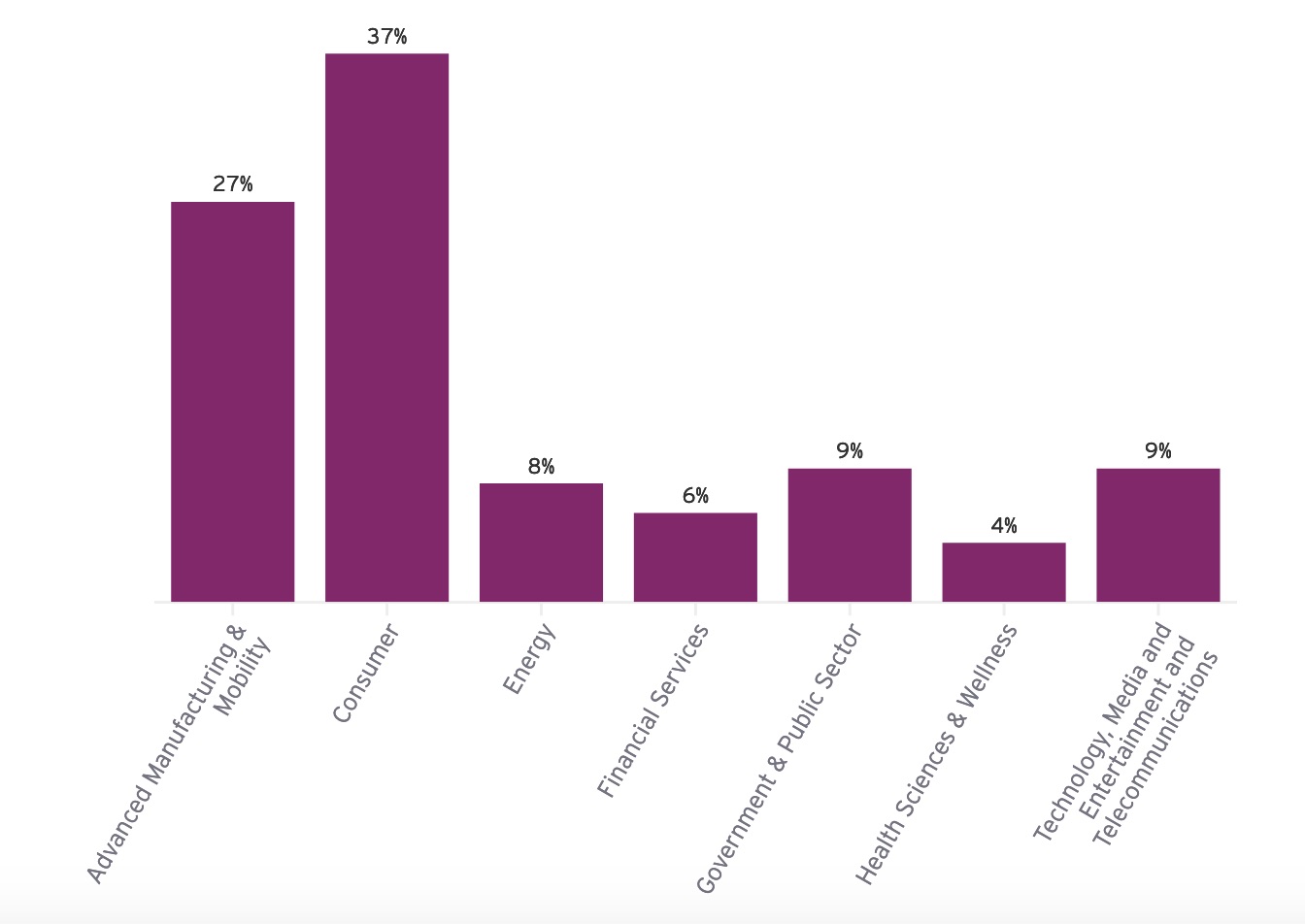 On governance and ways family firms are responding to stakeholder pressures to better reflect the times, EY research showed that the average family business board member is 61; and eight out of 10 businesses reported having no family members under 40 represented on the board.
However, the number of females on boards is rising, reaching 31 per cent in 2021, the report said. But only 5 per cent of businesses – just 27 of the 500 listed – had a female CEO. Female leaders of Fortune Global 500 companies fair little better at 8 per cent.
Of the companies that do have female directors, 54 per cent are from Europe, 30 per cent from the Americas, and just 13 per cent from Asia-Pacific.
"Gender diversity at both board and management level will continue to be an issue family businesses will need to address. The Nasdaq recently set diversity rules for listed companies requiring at least two diverse directors, at least one of whom identifies as female, to be appointed at board level. And investors have made diversity a priority and are prepared to use their voting power to drive progress," the report said.
In subtle and less subtle ways the figures represent how family enterprises are taking opportunities to diversify and encourage next generation expertise into the business to keep it vibrant and relevant.
"As wealth grows over generations, the challenges business families face become more complicated. This increasingly requires a professionalized approach to portfolio and asset management. Families are also engaging more non-family directors on boards and top management roles," co-author and assistant professor from the Center for Family Business at the University of St Gallen, Josh Wei-Jun Hsueh, said.
Robertsson says the stories of those represented on the index have a lot to do with resilience.
"When looking at data from past indexes, you'll see that actually not much has changed for these companies. This is to be expected. Family-owned enterprises are cornerstones of the economy for a reason: their focus on legacy enables them to survive in a unique way. Many of the organizations on the Index are 100+ years old, having survived world wars, other global epidemics and now the COVID-19 pandemic. I expect when we take another look in two years, those on this Index will continue to be thriving."