Single Family Offices: How Their Assets Compare
Alastair Graham, October 18, 2019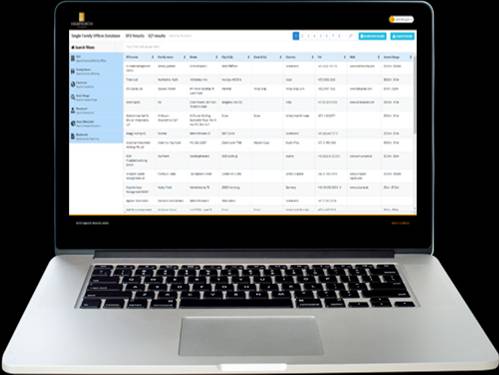 This article shows the actual size of Europe's single family offices and how they stack up in total AuM against the region's leading pension funds.
Highworth-Wealthbriefing SFO Database
The Single Family Offices in the EMEA database – stripping out the Middle East segment – shows that the European countries hold profiles of 545 single family offices and this number will rise to 1,000 in the coming months as Highworth adds further SFO profiles to the database.
In addition to much of the other information on each SFO, the database includes a carefully considered assessment of the probable value range of AuM for each SFO, based on as full a body of professionally sourced evidence as is available. A small minority of SFOs either directly disclose their assets under management or provide sufficient evidence to allow Highworth to calculate it to within a few tens of millions. For the majority, however, Highworth has placed each SFO's assets under management into one of 10 ranges.
SFOs assets assessed in 10 ranges
The following table shows the 10 AuM ranges, and the number of SFOs which fall within each range, out of a total of 545 European SFO profiles as at mid-September 2019. The table also shows the aggregate AuM for each range, taken at the lower, higher and median assessments.
The table then pro-rates the 545 SFOs to the 1,000 total scheduled to be on the database by Q2, 2020, and similarly pro-rates the AuM totals from 545 to 1,000 SFOs. The AuM totals are then converted from dollars, for which Highworth standardizes its AuM reporting to euros to allow comparison with the IPE figures for European pension funds.
European SFOs assets under management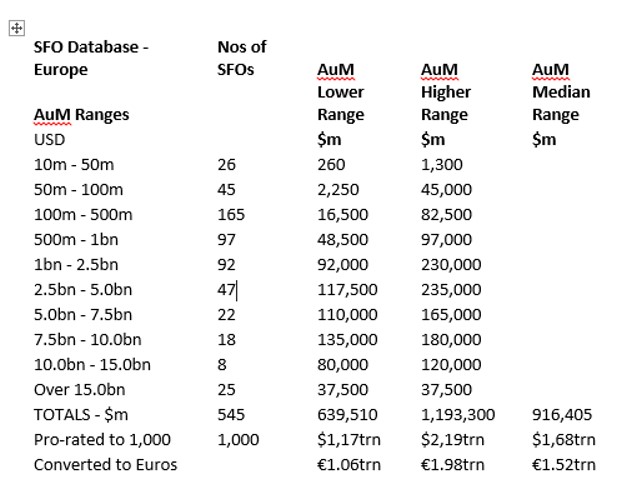 The table shows that at the median aggregate AuM assessment of €1.52 trillion, the 1,000 European SFOs both presently and to be listed on the Highworth Database hold nearly 20 per cent of the AuM of the largest 1,000 European pension funds.
The calculation of the assets under management of 1,000 European single family offices of course cannot yet be determined on the same objective basis as that for the largest European pension funds. However, the broad assessments which the Highworth SFO Database allows, shows that the capital held by European single family offices is on a scale which makes them a very appealing prospect for asset managers.