Legal
US Hedge Fund Attacks Litigation Finance House, Shares Slump
A player in the field of litigation investment - seen as a sort of alternative asset class - has crashed in the UK stock market. A US hedge fund has attacked its financial reporting practices.
Litigation finance business Burford Capital has hit back at US hedge fund Muddy Waters after the latter issued a "short attack report" and pushed down the business's shares by as much as 19 per cent on Tuesday. Shares continued to slump yesterday and this morning in London time.
Burford said that Muddy Waters' description of its business as a "poor business masquerading as a great one" were "without merit".
Shares in Burford, quoted on London's AIM market, were down by about 49 per cent on Wednesday, and fell about 5 per cent today, standing at around 570 pence per share.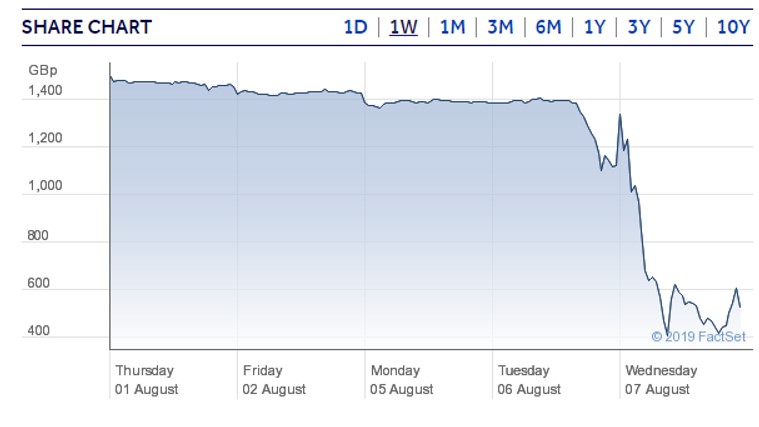 Source: Hargreaves Lansdown
"Burford will issue a detailed response to the report as soon as practicable and, following that detailed response, will also convene an investor conference call, as to which participation details will be provided in due course," Burford said in a statement yesterday. Christopher Bogart and Jonathan Molot, Burford's chief executive and chief investment officer, respectively, said that once the firm has made its detailed response to the criticisms, they will buy Burford shares for their own accounts.
The hedge fund's report had criticized the accounting Burford uses to value its litigation cases, which it says it is "aggressively marking". It claimed that Burford is "actively misleading investors" further with some of the metrics that it reports.
Responding, Burford said that it used International Financial Reporting Standards which were widely used throughout the financial sector.
The firm is one of a crop of specialists that make money by investing in litigation cases, a sector that arguably falls into the category of alternative investments. The sector is already large in the US, given the incentives thrown up by the "no-win, no-fee" revenue model.
Bear raid
"In addition to our audited IFRS reporting, Burford provides cash-based investment reporting in extraordinary detail, including providing line-by-line investment detail about every litigation finance investment we have ever made. We just put the latest installment of that reporting on our website yesterday. We are transparent about how we analyse and report on that data; our approach has been consistent for many years," Burford said in its statement.
"Burford believes that yesterday's share price movement relates to a rumour of a potential `short attack' or `bear raid', a tactic where short sellers take on a short position in a company's stock and then engage in claims about the company in an effort to alarm investors, depress a company's stock and profit from the decline. Burford also believes that some of its prior recent share price volatility is related to such activity," it continued.
The firm said there is a "clear line" between appropriate commentary and market manipulation. It said it is "investigating, with the assistance of market experts and experienced outside litigation counsel, the market activities here and will take appropriate legal action should we discover actionable misconduct. We are strongly suspicious that yesterday's significant fall in the share price was based on such actionable misconduct," it said.