How Family Offices Should Treat ESG Investing
Sherwood Yuen, July 2, 2019
The author of this article considers the issues around ESG investing for family offices.
Coverage of environment, society and governance-themed investment shows no sign of slowing down. On the contrary, it is one of the noisiest themes in wealth and investment management today, and is prominent in a number of regions.
For HNW individuals, a number of questions remain: How much can ESG add to client reporting? Is there any trade-off between ESG and monetary returns, depending on the approach taken? Could there be risks of "green-washing" if a flood of money purporting to be ESG-compliant enters the space without sufficient supply? Are benchmarks and other measures of results fit for purpose? And is there a risk that ESG investment is skewed unwisely towards equities and traditional assets, while private capital markets are less exposed? It also is worth asking if ESG ideas are part of a wealth industry's attempt to make itself more appealing to younger people at a time when free enterprise capitalism lacks friends. Whether that is a wise course is a matter of opinion.
There are a lot of questions to tackle. A set of organizations in an interesting position are family offices. They have the time-horizons and freedom to try out new ideas that might be out of reach of, say, public pension funds or retail funds. So their views and actions matter. To discuss how family offices should consider ESG investing is Sherwood Yuen, who is head of partnerships at Just Invest. That firm, an investments and technology business, is based in San Francisco.
The editors of this news service are pleased to share these views but do not necessarily share all views of guest writers and invite readers' responses. Email tom.burroughes@wealthbriefing.com

A Family Wealth Report recent article "ESG isn't a Passing Fad" highlighted the explosive growth in Environmental, Social, and Governance (ESG) investment choices and media attention surrounding this development. As providers of customized ESG portfolio solutions for leading family offices, we at Just Invest have seen at first-hand the growing demand for ESG and impact integration within family office investment programs. Just Invest has been partnering with progressive family offices who have already implemented ESG solutions for their clients and are now finding new ways to increase the overall efficacy and impact of their investments. We'd like to share a few lessons we have learned along the way.
Based on our experience, most family office clients have either mission-aligned endowments and foundations and significant charitable giving programs. Increasingly these families are also extending their values and belief preferences to their core investments. These can include environmental, social, and/or religious beliefs. Think of family offices with religious values – there would be certain companies they'd like to exclude from their investments because of specific products or services that don't match their beliefs. A matriarch or patriarch of a household may set up an endowment/foundation with specific instructions to follow their beliefs. And if that's not enough, we've noticed a dynamic in families where the younger generation is being involved in and trained to manage the family wealth, thus there is a heightened interest from that younger generation in having a positive impact with their investments. It's almost an industry cliché to say that Millennials as a group have more of a focus on societal and environmental impact in addition to financial returns. So, you can see that ESG investing is deeply important to family offices.

Based on our current work, the following are the top three needs we've seen from family offices as they look to innovate new ESG investment strategies for their clients.

1. Granular reporting and transparency
Family offices are incredibly smart, thoughtful and sophisticated. As such, simple ESG investment products are not sufficient to meet the needs of these mission-aligned investors. Family office clients desire transparency and clarity into how their investments are aligned with the family mission. Most traditional investment product offerings (mutual funds, ETFs, commingled funds, etc.) may offer qualitative ESG scores and/or rankings, but those are difficult to aggregate across the entire investment set and fall short in communicating the impact of the investments held. For example, an environmental score of "4" does not convey the actual environmental impact or risk of the investments that can be easily understood by stakeholders. Furthermore, these scores are based on complex methodologies which are difficult to explain to layman investors.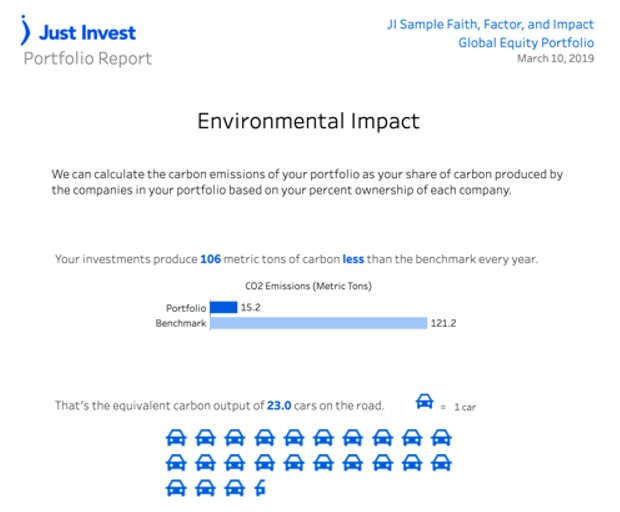 Family office clients that have ESG and/or impact goals want understandable analytics that measure the impact in their portfolios. Think things like the carbon footprint of their portfolio, corporate revenues tied to impact products and services, racial and gender diversity across company workforces, and more.

2. Radical customization
Customization and flexibility of selecting individual investments (direct indexing) are critical to servicing ESG/impact-inclined family offices' clients. In this day and age of mass customization, we are all accustomed to having products and services tailored to personal needs, and family office investors are no different. Off-the-shelf investment products offerings can't offer this type of customization and investors are stuck with whatever investments a portfolio manager chooses. This leads to holdings that have individual investments that may clash with the values of a family office client as he/she can't control how an investment product selects the underlying individual companies in the portfolio. Family office clients need a way to specifically screen out companies that violate their beliefs and select specific impact attributes that they want to accentuate in their investment portfolios.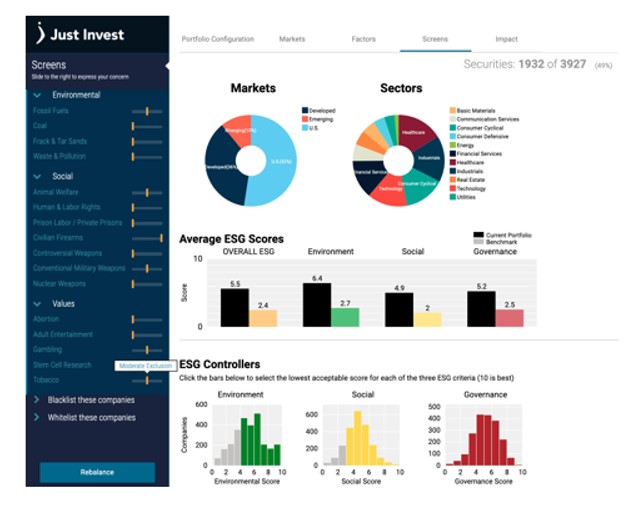 3. Alignment with existing investments and holdings
As previously mentioned, progressive family offices have already implemented ESG investment solutions for their clients. Often times these solutions are highly complex investment portfolios that include multi-asset class, multi-product, and/or multi-manager investments. The portfolios are designed to achieve specific impact-oriented goals based on their clients' values. For instance, impact investing within equity allocations has traditionally been implemented via private equity and direct investments. Until recently, Impact-oriented themes have largely been absent in the public equity space, but advances in corporate reporting and data collection services are rapidly changing this. As such, impact investment themes from private equity investments can also be complemented and/or enhanced from the public equity investments.
Our work with a number of family offices seeking alignment across the private and public equity allocations has led innovative portfolio management that includes optimizing to public equity companies that can demonstrate corporate revenues directly contributing to impact-oriented themes. These themes are typically related to the Sustainable Development Goals set forth by the United Nations. Families also often target additional impact themes such as labor and human rights issues or pollution and waste reduction which an existing portfolio may be blind to.
As more data and better tools become available, family-offices are not just integrating but are innovating new ESG investment solutions for their clients. Family office clients have always demanded more from their advisors and their investments. Investing in them means more than just financial returns, other needs such as alignment of values, ESG integration, and societal impact are just as important. ESG is not just a trend in the family office space, rather it's an undertow that has persisted for decades. Only now has the industry realized this and is jumping on for the ride.