Global Equities Catch Winter Cold
Tom Burroughes, Group Editor , February 6, 2018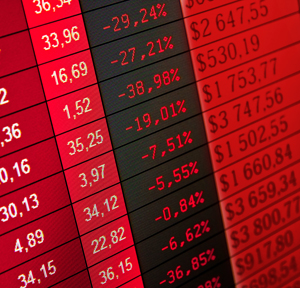 Investors are licking their wounds after a global equity selloff that has wiped over $4 trillion off the market.
Equities extended their slide from Monday today, with an estimated $4 trillion wiped off stock markets since prices started falling late last week.

Europe's main indices dropped by much as 3 per cent. The Dow closed down 1,175 points yesterday, off 4.6 per cent; the S&P 500 was down 4.1 per cent; the Nasdaq Composite Index was down 3.78 per cent (source: Bloomberg, WSJ, other). Asian bourses fell and continued to come off today.

The Nikkei 225 benchmark of Japanese equities, for example, was down more than 4.7 per cent as of 7:15 GMT today. Yesterday, the US Dow Jones Industrial average recording its largest-ever point drop and indices in Asia and Europe fell, prompting thoughts that the much-touted inflection point in markets had been reached at last.

Hong Kong's Hang Seng Index dropped 1.09 per cent on Monday, and lost 4.13 per cent today, while Singapore's main benchmark of stocks fell 1.47 per cent on Monday, and was off 2.24 per cent in late trade today (source: Bloomberg). The CBOE Volatility index .VIX, often dubbed the "fear-index" because it measures expected near-term stock market volatility, has surged, reaching 37, its highest level since August 2015.

Concerns that the Federal Reserve could tighten US monetary policy in the face of suggested labor market pressures, as well as recent shifts in bond yields, appear to have spooked investors. For some time, investment commentators have fretted that US stocks are, on a cyclically adjusted basis, expensive. Just prior to the selloff, the Shiller PE Ratio - a measure of how expensive or cheap equities appear over the long term - was around 32, higher than when stocks crashed in October 1987 and at the same level shortly prior to the Wall Street Crash of 1929. Some investors have drawn in their horns: UBS last September suggested clients should take equity risk off the table.
Gold
Other signs of stress yesterday and today came in the form of falling bond yields among paper such as US Treasuries and German bonds, some appreciation in the euro and rising gold prices. Today, spot gold fetched $1,371 an ounce (source: BillionVault) at noon GMT today, having risen from below $1,332 at the start of the week. BullionVault, an investment firm and trading platform, said gold trading turnover surged 133 per cent today from its 30-day moving average. "Gold isn't guaranteed to rise when equities fall. Indeed, it may drop amid a severe crash if fund managers sell to cover losses on other assets. But that is part of gold's role as insurance, because it offers a deep and uniquely liquid market of diverse buyers, from microchip makers to Chinese households celebrating New Year as well as investors," Adrian Ash, director of research at BullionVault, said.

DBS, the Singapore-headquartered banking group, cautioned against panic. "This does not herald the start of a bear market. Yes, bond yields have been rising due to falling unemployment and rising wages. And yes, the recent rebound in energy prices has also added fuel to the rising rates argument. But to argue that a secular bear market for bonds (and by extension, equities) is in place would be a bit of a stretch," it said in a note.

"Taken together, the US market has lost 6.1 per cent since Friday while the Euro Stoxx 50, Nikkei 225 Index, and MSCI Asia ex-Japan Index have also registered average declines of 2.9 per cent. To recap, the consolidation came as US nonfarm payrolls data was better than expected – at 200,000 in January (vs. the consensus forecast of 180,000). More importantly, average hourly earnings gains of 2.9 per cent y/y was the highest since 2009. Not surprisingly, the knee-jerk reaction was on fears that inflation is back, thus necessitating the US Federal Reserve to raise rates faster than their earlier guidance," the bank said.

The wealth management arm of UBS struck a sanguine note. Its chief investment officer said: "While volatility may persist in the very near term, we remain confident that the bull market remains intact. We may have moved from being `overdue' for a pullback, to approaching `overdone,' with this latest technical-driven sell-off."

"Unlike last Friday's 2.1 per cent sell-off, which was likely sparked by inflationary fears when US average hourly earnings jumped to a post-crisis high of 2.9 per cent, there were no obvious economic triggers to today's market decline. Technical factors likely played the lead role in the continuation of selling pressure and the speed of the late-day decline. Both the deleveraging of select institutional buyers with portfolio risk limits, and the market breaching its 50-day moving average, likely accelerated the intra-day drop," UBS added.

"Events of the past couple of decades have led investors to expect markets to rebound quickly from a major correction. Seemingly forgotten is the worst sell-off of the US stock market, which began in 1929 and resulted in a decline of almost 90 per cent. It took 23 years to recover. For those tempted to dismiss this as outdated data, take note that the Nikkei index hit an all-time high of approximately 39,000 in 1989. 28 years later it is still approximately 40 per cent below its all-time peak," Donald A. Steinbrugge, chief executive of Agecroft Partners, a hedge fund consulting and marketing firm, said.

"Instead of trying to time the market, investors should construct a diversified portfolio that can withstand market turbulence thereby avoiding the need to sell at market bottoms. Unfortunately most investors significantly underestimate the `tail risk' of their portfolios, he said.

There have been signs of worries about stock market levels for some time. For example, a survey of financial markets in the last three months of 2017 by Fidelity found that market volatility is their most urgent concern. In the fourth quarter, and prior to the selloff seen this week, Fidelity's quarterly Advisor Investment Pulse survey showed that 22 per cent said market volatility was their top concern; in second place, portfolio management was their top theme, and 16 per cent said the level of equity markets was a theme they were thinking about.
US President Donald Trump has recently hailed record-breaking equity market levels; latest price action, however, suggests that the vagaries of politics aren't always correlated with equity market performance, as discussed in an article last year. It has been argued that some of the gains to equities since 2009 were driven by central bank quantitative easing; the transition back to more "normal" monetary policy brought risk of a stock market pullback. The recent US tax cut package, with measures such as the cut to the federal corporate rate to 21 per cent from 35 per cent, has been hailed by firms as a positive in the long term.