GUEST ARTICLE: Serving More Than Turkey For The Family At Thanksgiving
Pat Armstrong, November 21, 2017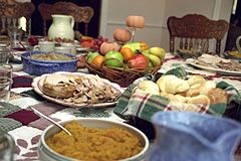 A gathering of family for Thanksgiving provides a strong opportunity to discuss important financial issues under one roof, the author of this article argues.
In this week that takes in the annual Thanksgiving holiday, thoughts can and should turn to gratitude. And as the author of this item argues, there are many dimensions to this. The author is Pat Armstrong, senior director, family dynamics and education for Abbot Downing. As ever, the editors here are pleased to share guest contributions with readers; they don't necessarily endorse all views of guest writers and invite responses. Email tom.burroughes@wealthbriefing.com
It's that time of year again, when aunts, uncles, cousins, children, and grandparents gather for the annual celebration of enjoying grandma's delicious home cooked Thanksgiving meal.
You are excited to see everyone, but have been eager for the opportunity to discuss finances with the family. Scenarios of how to ask your parents to help with your children's college tuition, ways to discuss the family business plan, and your desire to learn more about your parents' estate have been running through your head for months.
Families so often say, after it's too late, that they wish they would have asked their parents or grandparents more questions. This holiday is an opportunity for the whole family to listen and learn from the generations that have come before them.
And, this wish is more than just a nice to do. Decades of research on the successful transition of wealth across generations has shown that communication with and preparation of heirs are among the most important factors associated with the likelihood of retaining wealth into the third generation and beyond. Data consistently find that less than a third of families retain wealth across time, and the percentages drop with each succeeding generation. If you're planning to pass along a complex balance sheet preparation is key, but how do you get started?
Do you ask the big questions while the mashed potatoes are passed, after dessert, or when the family is enjoying a game of touch football in the back yard? You don't want to spoil the family gathering by not thinking through your goals, timing, and appropriate setting for the conversation.
One of the best practices of families who are successful with financial transitions across generations is sharing a few key stories that illustrate who they are and what they stand for. You may already know some of these stories, but there's a way to easily create new memories by asking grandchildren to "interview" their grandparents. This can be an easy way to stimulate additional topics to cover in future, perhaps more formal, family meetings.